A Locum GP's Deadly Cruise of a Lifetime
Intrepid Kiwi Dr. Jeff Green is used to extreme locums. From the Arctic and the Scottish wilderness to the Falkland Islands, the Pacific and all the way to Antarctica, his spirit of adventure has taken him to some of the world's most rugged and unspoilt locations as a doctor.
But nothing could have prepared him for the nightmare which was to unfold aboard the ill-fated Greg Mortimer, an Australian cruise ship heading to Antarctica via Argentina just when COVID had commenced its global spread. Stranded off South America as border closures to combat the spread of the virus were being enforced, Jeff found himself the doctor in charge of 217 passengers and crew – with 60% testing positive to the virus.
We caught up with Jeff after his engaging and emotional appearance on SBS Dateline's recent investigation into the Greg Mortimer ordeal to ask him how he secured the role of expedition doctor on the ship and how he's coping six months on. We also share an eye-opening blog he wrote in April—On Board a Cruising Petrie Ship—about his experiences.
What inspired you to become a General Practitioner and why did you start GP locum work?
I grew up and trained in London and moved to New Zealand in 1986. Becoming a GP gave me the family time I wanted and a choice of where to live. I started locuming after all my kids had left home in 2009 and since then I've been traveling full-time. The two locum qualities I always look out for are an interesting job and an exotic location.
How did you secure the role of expedition doctor onboard the Greg Mortimer?
When I worked in the Falkland Islands, I really wanted to see South Georgia and the South Sandwich Islands, a remote British overseas territory in the southern Atlantic Ocean. I met a GP who had travelled there on a cruise ship as the onboard doctor so I got the address of the cruise company and pestered them for six months before I got a reply and job offer. I did every season for many years and eventually this experience got me the job on the Greg Mortimer five years later.
Were you nervous about joining the ship before it set sail?
Yes. The Diamond Princess cruise ship had already docked in Sydney with numerous COVID cases on board and I knew it was a risk being at sea at this time. But I still went.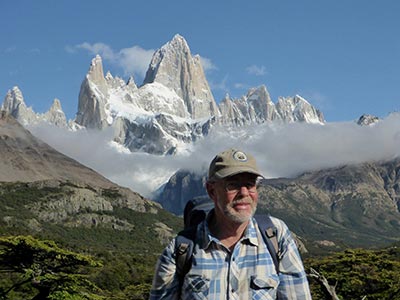 How do you feel six months on? Would you go back and do it again?
I hope to get to Antarctica again but I fear the cruise industry will take a massive and long term hit. It's becoming clear that the cross infectivity on boats is in reality unstoppable. Everyone was swabbed on the ship and the results showed that even with full lockdown on first presentation, 60% of all crew and passengers were positive by the time our first serious case was evacuated. But it also showed that 80% of cases were relatively asymptomatic and apyrexial. This shows how screening questionnaires and temperature taking are largely ineffectual. If you get on a cruise ship now, especially as the doctor, you have to expect the worse. And if the worse happens it may be hard to get off.
What still motivates you to do locum work?
It's the best way to see a place. You meet the real people - both co-workers and patients – and you see so much more of the reality of a place. You give something back rather than just being a passive tourist and outsider.
Thank you, Jeff
-------------
On Board a Cruising Petri Ship
By Dr Jeff Green
I left NZ on 13 March to be the expedition doctor on a cruise ship called the Greg Mortimer. We were off to Antarctica. The corona situation was changing so quickly it was touch and go whether they would run the trip, but they chose to go ahead.
We sailed out of Ushuaia on the southernmost tip of Argentina on 15 March. Within an hour of leaving, Argentina shut its borders to returning ships … and the trap was sprung.
The company straight away began to organise a shortened trip of ten days, with a charter to get us out of the Falklands on day 11. I knew with the covid incubation times - if we got to day ten we were likely in the clear. In fact, we would be in a covid-free bubble, while elsewhere the planet went into manic lockdown. We felt lucky, but it was like walking on egg shells.
Another doctor employed by the shipping company staffed the trip, so the workload was light for me and I didn't shoulder the key medical responsibility … basically I was in holiday mode.
For the first week, it was great. We had Antarctica almost totally to ourselves as no other boats were there. A great expedition with great landings, great nature and spectacular scenes. Then on day seven we turned around and started back across the Drake Passage towards Falklands and home.
I remember at the evening lecture on the ninth day there just seemed to be more low-grade coughing and throat-clearing among the audience. This was a worry so next morning I repeated my cough hygiene and hand washing talk.
Fever arrives
But that evening, a passenger collared me in the lounge to say his wife was unwell with fever. I went and saw her and she was burning up. I went cold with the thought 'and so it begins'. I could see the whole potential script already laid out before us.
We immediately put her and her husband into a pre-prepared Isolation Unit, called all the passengers to go to their rooms to isolate, and put the whole ship into lock down and face masks.
At this stage, it still could easily be a simple flu, but the fact that we had fever on board meant that the Falklands would not provide us with a Sanitation Corridor to the plane.
In retrospect, thank God, they didn't. If we had been allowed off, flying out and connecting to a network of commercial flights to all the various places back home, what would have been the effect of that decision?! How many would have gotten ill or died from that spread of infection … It doesn't bear thinking about.
So anyway, we sailed past the Falklands feeling unlucky. But now it was Plan B – to go to Montevideo which was the only port in South America still open. Meanwhile the company's Head Office in Sydney scrambled to organise a second charter from Montevideo with another whole set of connections and flights.
The hope was that the infection would settle in the three days travel and we would still be good to go by then.
But it was not to be.
We did twice daily temperatures on the whole ship in full PPE. Fevers kept appearing in passengers and crew, but resolved in a day or two with no complications. No one was really unwell and ships often have nonspecific viral things passed around.
By the time we got to Montevideo people were already getting used to this new reality – cabin bound with meals delivered to their room and twice-daily temperature checks.
Uruguay of course would not let us land; they were happy to resupply us and let us stay, anchored in the Rio de la Plata 20km off shore. But the Health Department said that we would have to stay there until the whole ship was fever free for 14 days. This seemed reasonable, but with a rolling infection through the ship this could take months as every time someone spiked a fever the clock got turned back to zero again.
We were not alone; it was like being a huge watery waiting room with a gaggle of different ships waiting to berth.
But then everything escalated.
It's Covid
One of the passengers who had had a high fever initially started to get worse. He developed diarrhea and feeling feint with trouble breathing. His oxygen levels were falling and his chest developed wet crackle sounds. We put him on oxygen and he improved, but this was already a classic covid story.
We called the Captain and he declared a marine medical emergency and put out the distress call to Uruguayan officials for immediate evacuation.
And then something truly amazing happened that totally stunned me and confounded all my worst expectations … They came. A hospital in Montevideo accepted him, even with his condition clearly likely to be covid.
Within a few hours a rescue boat arrived and took him off. A few hours later and he was on a ventilator, and would probably be dead now if they hadn't.
But this now looked grim and we waited for the results; this was going to seal the diagnosis one way or another.
I went to bed that night, the night before my birthday, dreading what the next day would bring.
Well, the next day came soon enough.
I was woken at 1am by loud persistent knocking at my door. It was one of the crew looking panicked. He said the Captain had ordered that I must go see the other doctor.
I went to his room; he had a high fever and was coughing madly. Clearly, he was infected and I was last man standing.
Next day there was an emergency meeting on the Bridge. The company in the US that was contracted to provide the medical services on the ship was now taking it very seriously. I was now their default doctor and their only medical provider on board.
That afternoon of that day I thought it could be the 'worst birthday ever'. Then later in the evening I went to the Expedition office just in time to overhear the call from head office saying the patient had tested positive for covid. Yep, that confirmed it … definitely … 'worst birthday ever'.
And spreading
Next day two more passengers were having respiratory problems; I put both on oxygen. In the morning, one was a lot better, but one was worse and this one had all the wrong medical risk factors.
I rang the Captain again to get her off but the winds were high now and the sea was wild. But still the Uruguayan rescue vessel came. In a few hours, she was off the ship and on a ventilator.
The next day it was the same story with another patient who had to go. It was beginning to rapidly escalate.
Then the Uruguayans intervened in force. They sent a team of technicians who over the course of seven hours completed nasal swabs on everyone on board.
A few days later a team of Infectious Diseases medical staff arrived and checked out everyone. They took 3 more people off to hospital care in Montevideo.
They had most of the swab results through already – at least 60% of those on board tested positive. We had been the true cruise ship covid incubator. A floating petri dish.
One of the passengers on board is a Professor of Respiratory Medicine and is writing the whole thing up as a paper.
As I had tested positive I too had to go into isolation. To be honest, I would have been amazed if I hadn't – front line medical staff are three times more likely to get infected.
But despite all this there were rumours that a special Sanitation Corridor was to be approved through Montevideo and that there was a charter company prepared to get a medical evacuation plane in that would take both positive and negative passengers. Enormous work was going on behind the scenes by private and government bodies.
But we had had so many false starts I refused to get excited. Also in other ports at the last moment so many ships had been turned away where the locals had protested and blockaded the quay.
But on Good Friday evening we upped anchor and sailed into Montevideo. We could see people lining the dockside, which was a bit of a worry.
We docked and by midnight all the Australians and New Zealanders, over a hundred of us in all, had been masked and gloved and disembarked. We were only allowed to take what you could carry and we loaded into four large buses.
When we drove off in convoy we were part of a kilometre-long cavalcade made up of police cars and motorbikes, buses, ambulance and support vehicles. All with lights and sirens going.
As we left the quay the streets were lined with people, the balconies and windows packed. But they were cheering, not protesting. They were waving flags and holding up signs of support and congratulations. It was a clearly a case of national pride and honour to be part of a humanitarian effort.
In these difficult times, people can react with fear and loathing or enhanced humanity. And we were blessed now to be experiencing the latter.
By 2am that morning we were boarded onto the converted Airbus with all the attendants in full infection control suits. We changed in Melbourne to a jet organised by the NZ government and three hours later the 13 New Zealanders were approaching home.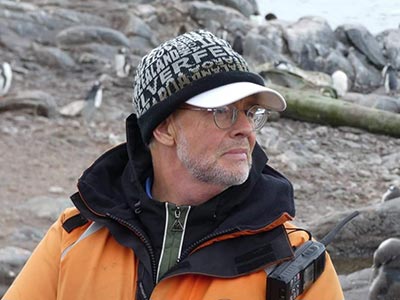 Seeing the coast of New Zealand is always a thrill after all those hours over empty ocean. But this time it never looked more like a Garden of Eden as we approached that green gem set in a sparkling sea.
And when we got off in Auckland airport, we were greeted by that special kiwi combination. An easy friendliness totally backed at the same time by genuine, authentic caring.
That was sweet. I may never have to endure an airport Departure Lounge ever again.
My private unspoken nightmare during this whole thing was that I might end up having to manage this thing alone and unaided, anchored off some hostile foreign port. But Uruguay changed all that.
Sorry this this has turned into a bit of a novel. When they make the film of the book I am hoping Brad Pitt plays me, but in reality it may well be Danny de Vito.
In the end eight people needed medical evacuation. Four were intubated and a few days we got the tragic news that one has died.
Maurucio, the ship doctor I worked with on board, bore the brunt of the episode (and so will probably get Brad Pitt to be honest). He has just been released from the hospital a few days ago and is a national hero.
One passenger is still critical and remains on ventilator and dialysis.
-----------
Dr Jeff Green's story above first appeared in the Bay Buzz in New Zealand in April 2020 and is reproduced with kind permission. You can read the original version here.
SBS Dateline's recent investigation into the Greg Mortimer and ship operator Aurora Expeditions can be found here:
Deadly Trip Of A Lifetime (Part 1)
Rescue and revolt on a COVID-19 cruise