Australia's National Skin Check Day: The results
On Thursday 25th Feb Mates Against Melanoma held their annual day of action, Australia's National Skin Check Day (ANSCD). We caught up with founder and visionary Jason Sprott to explore the results, discuss what they mean on a broader scale, and hear about what's on the horizon for the team at MAM.
Congratulations on organising such a terrific event and thanks for taking the time to chat with us. Can you tell us about the day?
We had 86 medical clinics register nationally with over 400 doctors supporting the day by providing skin checks for their patients. Our target was to reach 1000 skin checks on the day. We ended up with a total of 1629. A participating Health Group in the ACT had a 120% increase of skin check bookings from ANSCD with almost ¼ of these bookings coming from young adults at the one clinic. We also had over 600 skin checks not counted due to them being performed across the week or being booked in for a future date, which is a fantastic result.
Can you break the 1629 skins checks down for us?
Yes sure. Of those 1629 consultations, 944 suspicious spots were detected which need to be monitored. These patients were re-booked for regular follow-up appointments to monitor any changes. 511 biopsies were taken which means melanoma, basal cell carcinoma, squamous cell carcinoma were identified.
What do the results say about the preventative measures we are taking as individuals?
I think we have definitely come a long way in the past 20 years, but I think these results indicate we still have a long way to go. We do hope as we continue to grow ANSCD year on year, we see the general public understand how important it is not to be one of these statistics. We hope this will reinforce our message of early detection and sun safety prevention and that Australians from all walks of life will practice what we preach, and help promote these sun-safe messages.
Can you share some of the feedback from the practices and doctors that were involved?
We had a fantastic response from our registered practices & doctors that participated in ANSCD 2021. The feedback received was that they wished for more time to promote ANSCD to patients and their local community, which they will get for next year's activity. The 4 big questions were:
Is ANSCD an annual activity? (Yes)
When can we register for ANSCD 2022? (May/June 2021)
Is there a registration fee for ANSCD 2022 (Yes, $100)
What is the annual fee to be listed on the MAM – Find a doctor website database? ($100)
On a personal note, I'd like to thank medical groups like Ochre, SunDoctors, National Health Coop, and the Flying Skin Cancer Doctors. You all came on board, shared our early detection vision, and have been great advocates. We look forward to working with you throughout the year.
Can you reveal who the winners were of the 2 x HEINE DELTA 30 Dermatoscopes kits?
The Flying Skin Cancer Doctor and Bulli Medical Practice performed the greatest number of skin checks on the day. They also provided data from the biopsies taken on the day, which showed the number of melanoma, basal cell carcinoma, squamous cell carcinoma. Both clinics walk away with a combined prize value of over $5000.
You were in Canberra recently for a meeting with Jason Clare MP. Can you tell us a bit about that?
Yes, it was great to meet with Jason Clare MP, we spoke about our personal melanoma diagnosis, along with Mates Against Melanoma's national early detection campaign (ANSCD) and our charity mission to reduce long-term melanoma rates within a decade. We have been invited back to Canberra around August 2021 to attend a BBQ with a few other melanoma/skin cancer charities to discuss how our organisations can all collaborate and gain greater support from the government. This will be held by some of our MP's that have had a melanoma or skin cancer diagnosis. But before that, I will be back in Canberra looking to meet with more of our MP's to discuss the charity's strategies along with executive members from some of our national health & medical associations.
What are your thoughts on the steps needed to better educate our children on prevention?
I don't think there is any one answer, but we do need to look back and learn from what has been successful and most of all, what hasn't. We shouldn't keep funding strategies that are not working, just so we can say we're doing something. I think we need to look at how we incorporate more of an early detection & prevention message from online influencers along with the use of technology. I believe these aspects will play a key part in future health strategies generally.
Mandatory skin checks would lead to early detection and a reduced number of deaths. What are the barriers to this idea? And how can we work through them?
Yes, there have been a few online campaigns around this subject recently. The short answer is that Medicare can't afford it. If Medicare was to pay for free skin checks for the entire community it would go broke. While this is a challenge, I believe there are answers which MAM is currently working towards.
Where to from here for MAM? What lies ahead in the coming months? What projects are in the pipeline?
We've already started the preparation for ANSCD 2022, as we look to build on from this year's activity, by doubling the number of registered clinics and doctors. We will be re-developing the MAM website, and offering doctors an opportunity to register for a 12month period. We are entering into discussions with a couple of other charities to form collaborations, which will allow us to have a greater reach and to support local charities in local communities, keeping it as a grassroots revolution!
We are engaged with the Cooper Racing Team (Yachting) by supplying our sun safety MUSTO merchandise range for the Brisbane to Gladstone 2021.
MAM is also supporting Broken Spur Inc – "Highway to Health Tractor Trek" for men's rural health awareness, support and improved services. Shane Muldoon founder of Broken Spur will be riding a 1951 TEA20 Massey Tractor 1700km in 18 days from Alice Springs NT to Walker Flat SA in June to raise awareness for prostate cancer & mental health.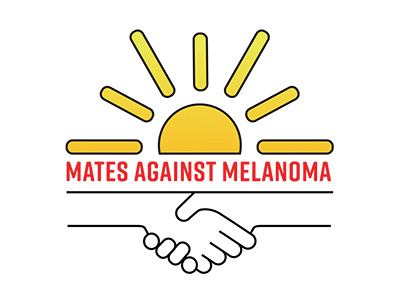 How can individuals get behind the MAM movement?
There are a number of ways individuals can get involved and join the Mates Against Melanoma revolution:
Commit to getting a skin check & tag @matesagainstmelanoma;
Ask your skin check doctor to support by registering to be listed on the MAM & ANSCD databases;
Get their employer involved by getting them to register their company's employee health & wellbeing department to support MAM & ANSCD (host employee skin check day on ANSCD);
Be part of the revolution, follow MAM socials fb & Instagram @matesagainstmelanoma and share our messages.
Thank you so much for your time today Jason.
---
Skin checks are a no-brainer and that's why the Ochre Recruitmentand Ochre Health Teams are proud supporters of Mates Against Melanoma.
To learn more about how you can support Mates Against Melanoma as a company, doctor or individual please visit the Mates Against Melanoma website.