Celebrating the Success of Ochre Health
We are delighted to celebrate the recent opening of our new Ochre Health Hub in Caloundra, and the addition of three more practices, all during the month of November. And just last week, we were awarded the contract for the provision of medical health services for the Western NSW LHD. This is such a privilege for us - taking us "back to Bourke", where it all started.
With so many exciting recent developments in the Ochre story, we thought it would be timely to look back over the past few decades of growth and to welcome all those dedicated doctors, nurses, and support team members from Creswick & Clunes Medical Centre in Victoria, North Hobart Medical Centre in Tasmania & the Health Hub in Caloundra.
To grasp the real success of Ochre, to appreciate the journey, you need to take a step back in time. The story of Ochre is one of bright minds spotting a gap in the market, tearing up the rule book, and applying their focus and hard work to achieve their vision. In 2002, doctors Hamish Meldrum and Ross Lamplugh worked in the quintessential Aussie Outback town of Bourke. Sharing the hospital roster, they couldn't take a break without finding other doctors to cover for them, and with no assistance from the Health Department, their only alternative was to source their own locums.
Hamish and Ross brought energy and enthusiasm into the area of rural medicine and almost by accident created what is today an astonishing healthcare business. The iconic Ochre Health Group comprises, Australia's leading rural and regional primary healthcare provider Ochre Health as well as their own internal agency, Ochre Recruitment.
Today, the recruitment agency business is instrumental in helping to alleviate staff shortages in both Australia and New Zealand by bringing doctors to rural-based practices and hospitals, as well as regional and metropolitan cities. Extending well beyond the Ochre network, Ochre Recruitment delivers workforce solutions to healthcare employers across Australasia.
With an emphasis on delivering positive medical outcomes for patients and unrivaled working conditions for staff, Ochre Health has become the beating heart of rural and regional communities in QLD, NSW, ACT, VIC, and Tasmania.
Since opening the first practice in Bourke in 2002, the Ochre Health network was grown from strength to strength. In the last year alone, 14 new practices across the eastern seaboard have jumped on board.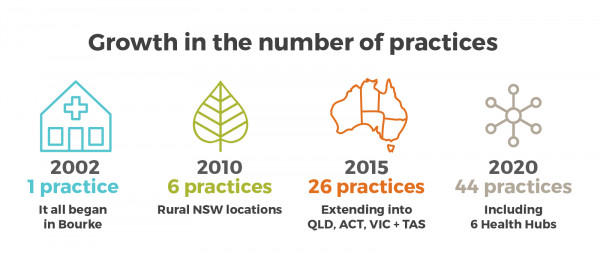 Part of the Ochre success story can be attributed to giving doctors the opportunity to practice at the top of their licence, empowering doctors to practice holistic healthcare and provide continuity of care.
"When you allow GP's to operate at the top of their licence they enjoy a broader scope of medicine in a supportive medical environment." CEO Dermot Roche
With an aging population and rise in chronic disease, having comprehensive care plans in place is vital to achieving positive health outcomes. These principles resonate throughout all Ochre Health practices and are in part why many practice owners have joined Ochre.
"I moved my practice to Ochre over five years ago and my team and I have always felt very supported. Ochre's values reflect the company's roots – focused on the community and all about what's best for patients. We have complete freedom to practice the way we want." Dr. David Heppell Medical Coordinator, Eumundi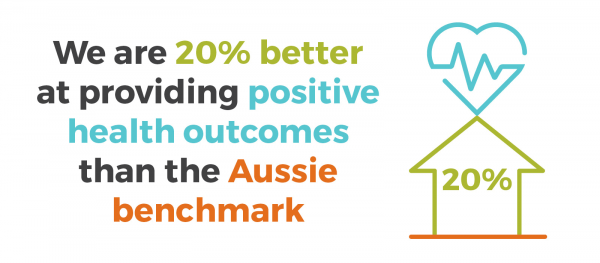 Welcoming Creswick, Clunes and North Hobart Practices into the Ochre family.
The Creswick and Clunes practices, which are now called Ochre Medical Centre Creswick and Ochre Medical Centre Clunes, are in a beautiful area of Victoria outside Ballarat, near the spa town of Daylesford. They were established in 1991 by Dr. James Maher and Dr. Vincent Russell. Run as a single entity with shared systems and management, they had three consulting rooms in the original Creswick building and two rooms in Clunes. Today, Dr Maher is still a mainstay of the practices and he works as part of a team which has expanded to include 16 doctors and five nurses.
North Hobart Medical Centre, now Ochre Medical Centre North Hobart, is a small practice with a loyal local patient base in the heart of a vibrant café and restaurant precinct. It was founded in 1984 and, over the last 36 years, has become known for providing comprehensive family medicine in a friendly, caring, and co-operative environment. While it is small, Ochre Medical Centre North Hobart is an important part of our plans to grow Ochre in Hobart and to expand the scale and diversity of services we provide to the community.
Our new Health Hub in Caloundra
The new development in the Sunshine State, for the community of Caloundra, is the culmination of 18 months of planning and building. It brings together the existing Ochre Caloundra practice and the teams from Golden Beach General Practice, Ormuz Avenue Family Practice, Centre Point Plaza Medical Centre as well as Dr Dianne Minuskin from Caloundra Central Family Clinic.
The addition of the new practices and Health Hub increases the number of Ochre medical centres around the country to 44. All our new doctors, nurses, and practice managers like our existing teams have an important attribute in common – they provide quality care to their patients and they love what they do.
Major contract win in North Western NSW
From the 1st of March 2021, Ochre Health doctors will provide on-site cover for the hospital rosters as well as care for the local communities of Bourke, Brewarrina, Collarenebri, Coonamble, Lightning Ridge, and Walgett. Ochre founder and board member Dr. Hamish Meldrum says the contract is an opportunity for rural generalist doctors to operate at 'the top of their licence' and lead community health, as well as supporting doctors in training. "I have worked as a GP VMO in all of these towns myself and the experience has been very rewarding, both professionally and personally. My family and I also loved being part of the local communities and we greatly enjoyed the rural lifestyle."
Doctors interested in discussing locum or permanent opportunities in these towns can contact Hamish directly or email [email protected]
Keep your eye out for next week's blog where we catch up with the inspirational Dr. John Hall, President of the RDAA and our very own Director of Medical Services.
---
If you're a General Practitioner keen to explore a career working at any one of our 5 Health Hubs or 39 Medical Practices we'd love to hear from you.