How Ochre is continuing to support doctors and our communities.
Despite the challenges of the pandemic, the GPs that partner with us, our amazing nurses, administration, and support teams continue to rally together to provide quality GP services.
Our medical recruitment team maintains its focus on supporting both the workforce needs of Ochre Health's practices and also our clients across Australia and New Zealand. Over the last six months, we have placed over 150 doctors in locum and permanent roles. Driving our success is the team's commitment to understanding the key drivers of our doctors, practices and hospitals by hitting the road to visit facilities, spending time talking to GPs and key client stakeholders, and attending conferences and industry forums.
The past 12 months have seen the number of doctors who practice with Ochre increase and we've completed over 1.1 million patient consults, up 27% from last year. Across Ochre, we have delivered nearly 70,000 COVID-19 vaccinations (mostly AstraZeneca, but also now Pfizer in ten of our practices). We have also conducted over 17,000 COVID-19 assessments and tests across our four GP-led respiratory clinics at Sippy Downs on the Sunshine Coast, St Helens in Tasmania, Bathurst in NSW, and our mobile clinic in North Western NSW based in Boggabri and serving that town as well as Narrabri, Gunnedah, and Wee Waa. An incredible effort!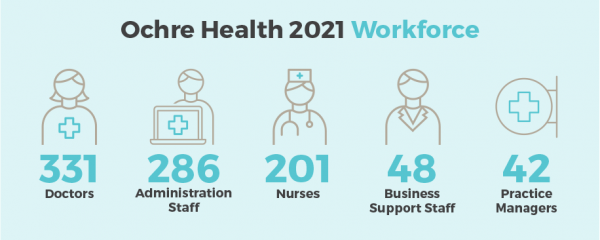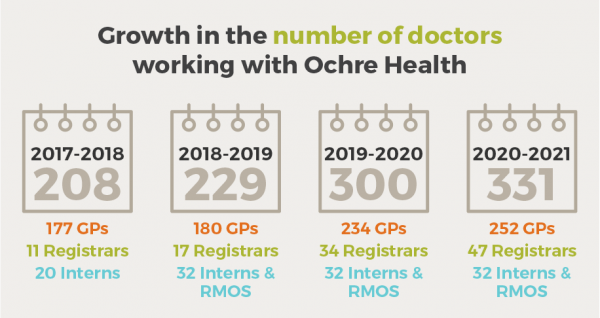 Following our successful NSW Health tender to provide GP VMO services in the towns of Bourke, Brewarrina, Collarenebri, Coonamble, Lightning Ridge, and Walgett, we were pleased to launch new practices in each of those towns in March and take Ochre back to our roots (having been founded by Ross and Hamish in Bourke in 2002 and named after the red earth of the Outback).
We have also recently welcomed the team from Marsh Street Medical Practice, which became Ochre Medical Centre Armidale in June, and we have taken ownership of a building on Liverpool St in Hobart which we plan to transform into new, state-of-art Ochre Health Hub to accommodate our existing Barrack Street and North Hobart practices.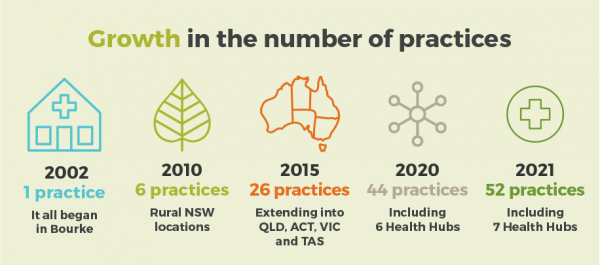 If you are a doctor, contact us for more information about working at one of our sites in Western NSW.
If you want to learn more about locum work in Tasmania, ask for our free brochure.