The 4 Best Surf Spots for the Adventurous Locum GP
With the crashing surf break and the sun at your back, is there anything better than sitting on your surfboard waiting for the perfect wave? For those in search of locum doctor jobs in Australia, the Lucky Country has a number of spectacular surf spots that can satisfy your need for adventure as well as offer you fantastic scenery to enjoy along the way.
Locum doctor jobs in Australia offer expats a way to swap grey clouds for golden beaches.
With demanding jobs, professionals need a way to relax. Surfing has for many years been a way to release a day's stress and keep fit at the same time. To help you find a beach close to your placement, here are four of the top surfing spots for those in search of the endless summer.
Burleigh Heads, Queensland
Burleigh Heads is to Surfers Paradise what Liam Hemsworth is to Chris Hemsworth. This picturesque surfing spot tends to be outshone by the long golden beaches to the north but its spectacular scenery should make it more than just a side note.
Burleigh – as the locals call it – is one of only a few beaches that truly offer both great protection for swimming and amazing surfing experiences. If you are a swimmer, and when the rest of the coastline is looking a bit choppy, chances are Burleigh will have a nice protected spot for you to make a splash.
For all those surfers out there, Burleigh is the epitome of Australian surfing. It's sandy bottom and southeasterly breezes provide a long and barreling right-hand break that will make you cry with joy. After you've satisfied your need for the blue horizon, there are a number of showering spots dotted between the fragrant pine trees that tower above the coastline.
Fleurieu Peninsula, South Australia
While Burleigh is an excellent place for experienced surfers, some of us have to start out with the grommets – young surfers. This is where the beach break of Fleurieu Peninsula comes in. The magical long white beaches are the perfect playground to learn to paddle, duck dive, stand up and carve a wave.
For those stationed in or near Adelaide, Fleurieu Peninsula is a popular weekend or day trip for those looking for a little sun, surf and beach fun. While the easy break is an excellent place for beginners to grow, the range of spots means that this peninsula caters to surfers of all ages. For expat doctors with families, the beach is a magical place where children can play and make the most of Australia's fantastic coastline.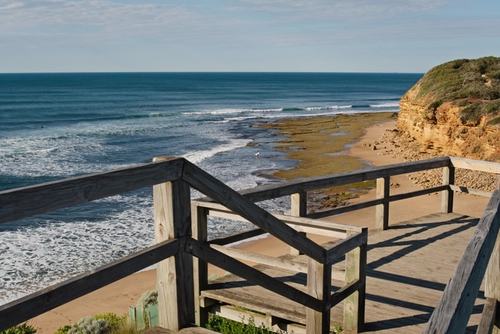 ​
Angourie, New South Wales
Few beaches in Australia have the same reputation as Angourie on New South Wales' north coast. As the first National Surfing Reserve to be declared in the state, this spot is legendary among surfers from all over the world.
The hero of this surfing reserve is the rocky boulder reefs that turn the north and east swells into perfectly forming tubes to ride. While the surfing is spectacular and a breeding ground for Australian legends (Nat Young anybody?), the surrounding reserve is filled with a diverse range of flora and fauna. From little pippis and cockles to curious crabs, the beach's diverse environment of pebbles and fine sand is a treasure trove of nature.
Australia GP Hospital locums are a great way to escape the daily grind.
Spot 4 – Bells Beach, Victoria
Australia has over 10,000 beaches for locals, expats and tourists to choose from. So when a beach is known throughout the world, not just by surfers but also those outside the sport, it must be good.
Bells beach is the mecca of surfing spots. Located along the incredibly beautiful Great Ocean Road, this world-famous surf spot draws people from all walks of life to its epic swells and fantastic views. Torquay – a close costal village – is also home to two of Australia's largest beachwear brands: Quicksilver and Rip Curl.
With so many magnificent beaches to choose from, expats can be sure there's a surf spot that fits their level of skill. A family road trip, a day trip to escape the city or a week-long exploration – the choice is yours.
If you can see yourself at one or all these beaches, talk to the experts in Australian medical recruitment. Contact Ochre Recruitment today.