Tunes, Good Vibes & Hep C Treatment
In their Hawaiian shirts and yellow '75 Kombi replete with Neil Young playlist, it would be hard to miss Drs. Matt Young and Joss O'Loan, which is exactly the idea. Since 2016, the Kombi Clinic has been conspicuously rolling through the socially disadvantaged areas of South-East Queensland most affected by Hepatitis C. Surely one of the major issues of Hep C treatment is access, so why not retro-fit an old campervan into a mobile clinic and take it where it's needed most?
The Kombi Clinic grew out of Joss and Matt's practice in Inala, a Brisbane suburb faced with many social inequalities, where they were experiencing a "very high" Hep C caseload.
We caught up with Joss to find out what it's like for a GP on the front lines of Hep C treatment.
"Both Matt and I treat many people who inject drugs at our GP clinic and incorporate Suboxone/methadone prescribing as well," begins Joss. "We have about 250 patients shared between the two of us on the opioid substitution therapy (OST). With this patient demographic we therefore had a very high caseload of Hep C in our clinic.
"We thought 'we have to take the services to the patient', rather than wait for the patient to come to us. We believe that there is no such thing as a 'hard to reach' patient but rather the patient that is 'hardly reached'. We wanted to create a model of care that would assist patients getting tested and linked to Hep C treatment."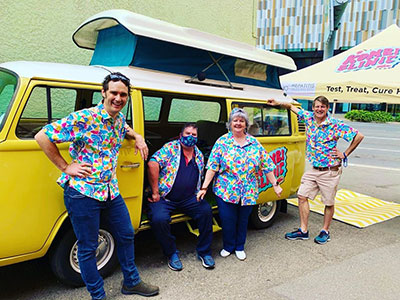 What helped to make mobile treatment more of a feasible reality for Joss and Matt was the availability of DAA—Direct Acting Antivirals—in 2016, which Joss describes as a revolution in Hepatitis C treatment.
"Treatment with DAA has better than 95% cure rates with very little side effects," states Joss. "The treatment regime is tablets only for 8 or 12 weeks. The medication is highly effective with minimal side effects. DAA medications can be prescribed by GPs and nurse practitioners. Very different to the old interferon days. In terms of our cure rate, of those that have gotten the end of treatment bloods, our success rate is 98.5 percent!
"Around 23% are lost to follow up—meaning that despite our best efforts we haven't been able to track these patients down and get a blood test to confirm the result of treatment. As many of our patients are living rough / unstable accommodation and have no mobile phone, follow up can be difficult."
What does being 'cured of Hep C' really mean?
"Being cured from Hep C means a hell of a lot to our patients. I've had patients tell me that it feels like they have had the weight of the world lifted from their shoulders and a new lease on life. Many patients have been incorrectly told in the past that they would never get cured, and many lived in constant fear that they would pass on the infection to their loved ones, partner or kids. Many patients have seen loved ones die from hep C related liver disease.
"So to be able to tell someone that they are cured… it's absolutely massive. It's also a real turning point in many patients' lives, many will stop injecting drugs or start weaning down on their methadone and suboxone, making positive steps in their personal health journey.
To mark how important Hep C cures are for our patients, in 2019 we ran a photography project giving out cameras to patients to document their treatment and what cure means to them."
We believe that there is no such thing as a 'hard to reach' patient but rather the patient that is 'hardly reached'.
Now in its fourth year, Kombi Clinic has faced a unique hurdle in the form of COVID-19. The mandate of physical distance and limited contact is at odds with what makes the clinic effective: approachability.
What have you had to put in place to bring Kombi Clinic in line with the New Normal?
"Being approachable is very important in breaking down the stigma around Hep C and injecting drug use. There is often an inherent power balance issue when patients see doctors, and this is important to change especially when chatting about Hep C and drug use.
"Kombi Clinic like so many others had to adapt and pivot with Covid-19. The main considerations that we had were around social restriction issues. All of the venues we go to, like homeless drop-in centres or public festivals had to dramatically change their operating services. With the Covid restrictions, Kombi Clinic could no longer turn up at a venue and pull a crowd. We weren't able to sit down and have a yarn with people.
"So we turned to telehealth, we put up posters in multiple pharmacies that dispense Methadone and Suboxone and handed out over 1000 flyers encouraging patients to call in for HCV services. We had some success with this approach, but thankfully with the easing of social restrictions in Queensland, Kombi Clinic has been able to get back to its roots! We've been back on the road doing outreach clinics since June."
Has treating Hep C on the ground given you any insight into the social forces behind drug addiction?
"As a GP one of the privileges is being able to treat people throughout their lives, being able to treat families and being part of the community. Working in the Inala community and working on the Kombi Clinic has given me a ringside seat on many social inequalities that exist in Australia and their impact on health including drug use behaviour. Kombi Clinic was set up in an attempt to change these social determinants for accessing health care, and ensure that a more equitable model of care is available."
If you'd like to know more about the Kombi Clinic, please visit their website here, or view their Instagram here.
The Kombi Clinic team are:
Dr Matt Young FRACGP MBBS DRACOG BA (Archaeology), senior lecturer at UQ School of Medicine

Dr Joss O'Loan FRACGP MBBS BSc(Hons) DCH, senior lecturer at UQ School of Medicine. Joss also works at Headspace Woolloongabba

Nurse Mim O'Flynn, Hepatitis Queensland

Phlebotomist Michael Mooney, "the needle whisperer", QML