Visa changes - what NZ healthcare employers need to know
It's no secret that there is a recognised shortage of doctors in New Zealand. We've been working with International General Practitioners, Specialists, Registrars and Junior Doctors for many years now, helping them relocate to New Zealand so they can help local Doctors provide essential health services to the population.
Ochre have recently partnered with Aims Global to help bring healthcare employers a greater level of understanding surrounding immigration processes, particularly in light of the new changes set for introduction in early 2021.
Aims Global Immigration is a specialist consultancy agency who are trusted experts for all matters pertaining to immigration. They have been helping migrants and their employers achieve stress-free successful outcomes for over 15 years.
The key changes coming in 2021 will affect all employers supporting work visa applications. Being aware of them early will help you prepare and budget for these changes. There are opportunities and challenges that lie within these - here's what you need to know:
1. Mandatory employer accreditation rolled out in 2021
A new version of accreditation will be introduced in 2021. It will be mandatory for all employers (including those with existing accreditation) to be accredited under the new rules before they can hire migrants on a work visa. There will be 3 types of accreditation, based on the number of migrants you hire. This will be a phased roll-out in 2021 so that not all employers will need to be accredited the same day.
Simply put, If you are already accredited by INZ as a recognized employer, you will have a streamline transition into the new process - further details awaited from INZ. If you are not already accredited, you will go through the full process.
While Immigration New Zealand has announced the overall structure of this change, the fees and specific policy details are expected later in 2020.
2. The one and only work visa – 'Temporary Work Visa'
Currently there are a variety of work visas that you can choose for your employees depending on the specific requirements they meet. It can be Work to Residence (Accredited Employer), Work to Residence (Long Term Skill Shortage List), Essential Skills, etc. In 2021, 6 categories of work visa, including the 3 examples stated, will be replaced by one 'Temporary Work Visa'.
Labour market tests (namely advertising and screening process for a role) will become mandatory in some cases - depending on the region of work and salary offered.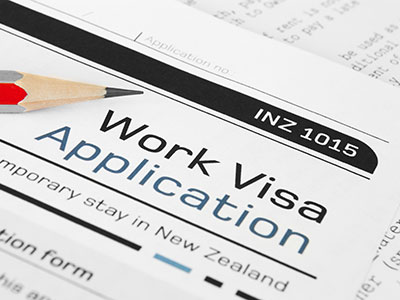 3. Overseas doctors and their families
When your overseas doctors migrate to New Zealand, they do so with their families and often, with the goal of obtaining residence as soon as they are able. They move here to settle, to call New Zealand their new home.
It is worth re-stating that the impending changes next year are phased and do not happen at once. This presents a unique opportunity for many of your employees to piece together different work visa and residence policies to achieve their immigration goals; whilst still being mindful of the complexities and pre-requisites of the various visa streams. For example - switching to Skilled Migrant Category of residence after the grant of a Work to Residence work visa is a lesser-known but a very effective option for many applicants.
---
There is a lot going on in the immigration landscape. It can often be confusing for employers and doctors alike. We have chosen Aims Global Immigration as our preferred immigration advisory firm because they specialise in simplifying immigration for you and your staff, so you can focus on what you do best - running your Practice or Hospital Department and keeping communities healthy.
Aims Global Immigration is holding a webinar on 19th November at 12 pm so you'll have an opportunity to hear about the accreditation process, latest immigration updates, and have your questions answered. If you have any questions that you'd like answered before then or you need immigration assistance, please feel free to call 0800 246 745 (09 9191930, 0212575250) or email Licensed Immigration Advisor, Arunima Dhingra at [email protected]