Ochre Recruitment: Our purpose and commitment to Doctors
Despite the massive challenges that COVID has brought and continues to bring to the world, the front line, support, recruitment, and corporate teams at Ochre have never worked harder, have never been more agile in embracing change, and have never been stronger as we continue to support our patients, doctors, team members, and external clients.
Earlier this year, Ochre Health Group entered into an exclusive partnership with Western NSW LHD to manage the GP VMO rosters in the iconic rural towns of Bourke, Brewarrina, Coonamble, Collenarbri, Lightning Ridge, and Walgett.
Along with the Western NSW LHD Sites, Ochre continues to successfully and proudly manage and provide health care services to residents in regional and rural Tasmania. We manage 12 practices and numerous VMO Hospital contracts across the 'Apple Isle', all with well-supported teams working together to make the most of living in and serving their communities.
The launch of Ochre Medical Centre Armidale in June increases the number of Ochre practices around the country to 51 and our total number of doctors working in Ochre practices to over 320. The Armidale team's focus on quality care and their related cultural values also means they are perfectly aligned with our founding purpose of 'Supporting doctors to improve the health of our patients and communities'.
'The Ochre Recruitment Way' keeps us focused and gives us purpose. It describes who we are, what we aspire to be, and how we behave as an organisation. It's all about working with great doctors, matching them with roles that are most meaningful to them so together we can deliver great clinical outcomes. This week, we take great pleasure in sharing our management framework with you.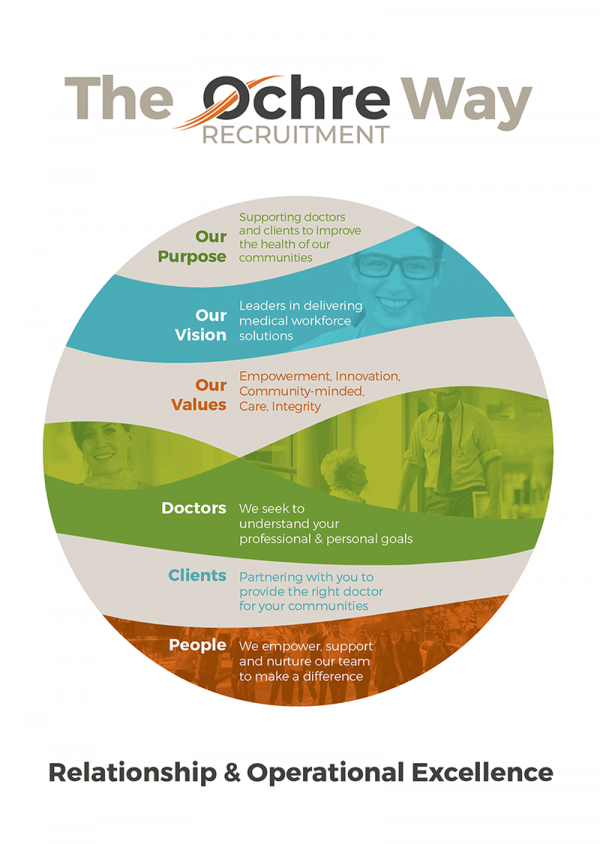 If you'd like to know more about what makes our team tick or you'd be interested in joining our team, click here.
If you are a doctor and would like our help in finding rewarding GP locum jobs or meaningful permanent GP roles, please get in touch today.
For all Rural Generalist or Rural GP Jobs, please call Phil Dixon on 0424 550 378, Paul Campbell on 0457 004 414 or Nicole Langan on 0450 502 134.
For GP roles in all locations, AMS opportunities, and GP jobs in Correctional Facilities, please contact Nicole Langan or Steph Nash on 0437 850 829.
For all GP Jobs in New Zealand, contact Angelique Rahme on 022 463 7328.