What the Ochre Medical Directions Partnership Means For ED Doctors
Ochre Recruitment has recently entered into a partnership with Medical Directions, one of Australia's premier providers of medical workforce solutions. What does this mean? An expansive and exclusive range of emergency medicine and GP/ED VMO roles across Australia.
This partnership affords Emergency Medicine Specialists, Registrars, CMOs, and GP ED VMOs exclusive access to over 10 hospitals (including GP FastTrack Clinics) spanning Hunter New England, Murrumbidgee, Western NSW, and The Illawarra Shoalhaven Local Health Districts.
Our arrangement with Medical Directions paired with our existing relationships with local health services makes us uniquely placed to offer doctors challenging and professionally rewarding opportunities across Australia.
Emergency Doctors receive
Permanent and fixed-term locum work at competitive rates
Exclusive placements spanning locations and facilities within Hunter New England, Murrumbidgee, Western and Illawarra-Shoalhaven LHDs
Job security with options of FIFO or relocation assistance where required
Location diversity: from scenic coastal communities to charming country towns, all 1-2 hrs from the nearest airport
Opportunity to upskill and exposure to a range of medicine
Full support from our experienced team, matching you to the right role and assisting you with credentialing requirements, travel, and accommodation.
We now enjoy an added scope and expanded capacity for offering locums roles, FIFO arrangements, short-term or long-term contracts in addition to permanent roles in well-supported and modern Emergency Departments. You will, of course, have questions. Here are some questions and answers that we hope will clarify how our partnership will source, supply, and support you with the right emergency medicine roles for both your career and work-life balance requirements.
Where can I work as an Emergency Medicine doctor?
Doctors working with Medical Direction may work in Emergency Departments at Nelson Bay, Inverell, Manilla, Quirindi, Mudgee, Cowra, Young, Milton Ulladulla, Shoalhaven, Glen Innes plus many other sites across NSW.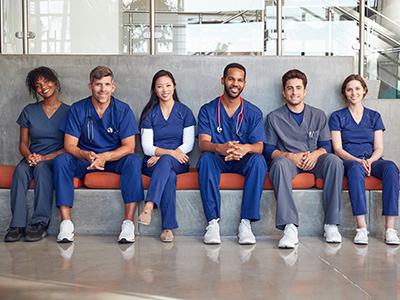 Can I work as a locum while I'm pursuing a Fellowship?
Medical Directions can help you get into a pathway and provide you with well-paid work while you complete your fellowship.
I am an IMG. Can I work as an ED locum?
Medical Directions' definition of work eligibility is based on AHPRA registration status, qualifications, skills and experience required for the job.
How often do ED Locums get paid and what is the payment process?
Emergency doctors are paid monthly (calendar month)—the pay period is the first day of the month until the last day the month. At the conclusion of each month, you simply forward your invoice detailing all shifts you worked for the month and Medical Directions will pay your invoice within two weeks of the end of the month.
Are flexible accommodation options provided?
Accommodation for locums varies from location to location. For example, offsite commercial accommodation is provided, while some facilities provide on-site accommodation such as a self-contained unit or private room with ensuite and kitchenette.
What about my partner or family?
Medical Directions can support requests to accommodate partners or family if the accommodation is suitable.
Are travel arrangements covered?
We will fly you to the closest location, and if necessary a rental vehicle can be arranged. We will always ensure that you are happy with the travel prior to confirming the shifts for you.
How flexible are the rosters?
We have flexibility with our rosters, and we work with doctors to achieve their work-life balance needs.
What locum rates can I earn?
Doctors engaged in ongoing work are paid at locum rates for their permanent work. Locum rates may vary, but we offer competitive market rates.
What is the backup and support like? Will there be on-call?
In some of the rural locations, you may be the sole doctor charge. We will advise you on what local specialist support is on-call and available to you should you need it. In the more metro locations there will be many RMOs, Regs, Senior staff and FACEMS working during the day.
Is ward cover part of the role?
Some sites yes and some sites no. At Quirindi, Manilla, and Young, ward cover is part of the role. Whereas there is no ward cover at Cowra, Mudgee, or Inverell. There is some ward cover at Tomaree for one role.
Where do "the sick ones" get transferred?
It depends on the location. If you're an Emergency Medicine Doctor in the New England Tablelands (Inverell), then patients will generally be transferred to Armidale or Tamworth. If you are working at the facilities in Manilla or Quirindi, patients will be taken to Tamworth. If in Murrumbidgee (Young), Wagga will take the critically ill.
Whom will I report to?
These details will be included in the hospital confirmation document. A welcome pack will also be available at the hospital when you arrive.
Do you have the same roles as other agencies?
Because we hold exclusive service arrangements with over 10 hospitals, including GP FastTrack clinics, across four NSW Local Health Districts, we have access to roster lines and roles whether they be of a FIFO nature, contract, full-time and part-time, and permanent jobs before other agencies.
Do you take a cut from my pay?
No, our service is free for doctors. We are paid by hospitals and clinics and hold exclusive service arrangements with over 10 hospitals including FastTrack Clinics across four Local Health Districts.
Are Medical Directions and Ochre Recruitment the same company?
Medical Directions is a division of the Ochre Group, a leader in the provision of primary care. Ochre Recruitment is the sister company of the Ochre Group. Ochre Recruitment specialises in placing locum and long-term doctors and has long been a trusted partner of private and public health facilities across Australia and New Zealand.
Secure your ideal locum role—contact our Emergency Medicine Consultant Naomie Rapira today.
We don't advertise all locum roles on our websites as some are filled so quickly, often within 30 minutes! Whatever your locum or long-term career goals are, we're confident we can find the ideal job for you.
Take a look at the ED locum jobs we currently have available by searching our current locum jobs here.