Looking for your next Rural Locum?
Step into a rural locum for your next GP job. We manage the paperwork, negotiate the best rates, book your travel + accommodation, and offer you a premium service.
Exceptional GP VMO locum rates
Flexible contracts & start dates
Short, long-term & ongoing locums
Choose from GP, GP ED, Hospital or AMS
Your Rural Generalist Team
We are proud to have a highly experienced team of consultants working in the Rural Generalist and Hospital space in Australia.
With 25 years of medical recruitment knowledge and expertise between them, you know you are in the very best hands when it comes to finding your next rural GP locum, when you choose Ochre.
Scott, Paul, Christine, Ashley and Phil all love what they do, they enjoy working with Rural Generalists and are strong advocates for ensuring that all Australians no matter where they live, get access to quality healthcare services.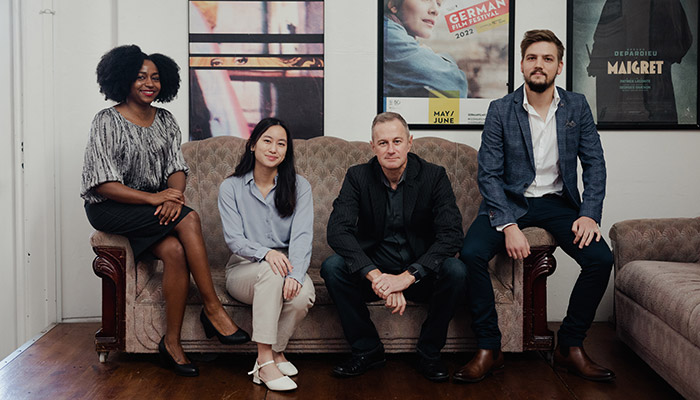 Christine Reed, Ashley Chan, Phil Dixon & Scott Rogers
Locum rates for Rural Generalists
Rural generalists command higher locum rates compared to GPs in metropolitan areas. This is a guide, we can often advocate on your behalf for higher rates and there is always room to move with flexible dates.
| State | Rural Generalists | GP Procedural Work (Eg Obstetrics, Anesthesia) |
| --- | --- | --- |
| ACT | $2,000-$2,500 per day | $2,000-$2,500 per day |
| QLD | $1,800 - $2,500 per day | $2,000 per day |
| NSW | $2,000 per day | $2,200 per day |
| WA | $2,000 per day | $2,000 - $2,100 per day |
| SA | $1,800 - $2,000 per day | $2,200 per day |
| NT | $2,000-$2,500 per day | $2,000-$2,500 per day |
| TAS | $1,600 - $1,800 per day | $1,600 - $1,800 per day |
The benefits of working as a rural GP
Rural medicine is an exciting and stimulating career choice where no two days are the same. Often the backbone of smaller rural and remote communities, rural generalists require a broader scope of practice to tackle the unique presentations they encounter.
Working as a rural generalist, you will benefit from:
An evolving skill set and increased professional satisfaction
Having the skills and knowledge to deliver services in settings such as ambulatory care, home, hospital, retrieval and long-term residential care facilities
Functioning with a high degree of independence
Much higher locum rates
Diverse and enriching cultural experiences
A rare opportunity to really 'see' Australia without the urban lens
A quality of work-life balance that is unique to rural and remote environments.
Life as a Rural GP
Australians have the right to access high quality healthcare no matter where they live. Essentially, rural generalists have the skills to make this happen, delivering quality, personalised and contextual care across a range of health services and from cradle to grave.
Dr Alex John recently returned to a permanent role on Flinders Island at our Ochre Medical Centre, in partnership with the Tasmanian Health Service. He never set out to practice rural medicine, but was drawn to the hands-on experience that island medical practice offered. "Having spent several years among Australian island communities, what I've enjoyed the most is being able to do a bit of everything."
Dr John Hall is a passionate GP Obstetrician who believes there's a certain mindset that comes with being a rural generalist. "If you're going around the hospital doing different terms like obstetrics, emergency, anesthetics, surgery, internal medicine, any of the sub specialties, and you keep saying to yourself, "I love everything about medicine. I like all the different disciplines"... It means that you've got a generalist mindset. My first foray into proper rural medicine did not disappoint. I had a busy job working as a full-time hospital doctor in a medium-size rural hospital. Working across the gamut of emergency care, surgery, internal medicine, outpatient work—one of the most rewarding workplaces and jobs that I've ever done."
Ochre Recruitment has proud history of providing key rural employment opportunities for GPs, and offers the most comprehensive range of rural GP jobs in Australia.
What do I need to work as a Rural GP?
Following a state-level Rural Generalist Pathway or National Rural Generalist Pathway significantly broadens your prospects and career options as a Rural GP.
Find out more about the Pathway and where you can work as a Rural Generalist.
Thank you for all your help Phil. You helped facilitate the next step in my career with the utmost of ease. I am delighted with the outcome and can't wait to start my new job! I recommend Phil and the Ochre Recruitment to other doctors looking for their next role.
Dr Tanya Davies
General Practitioner
Once you jump on board with Ochre, you'll never get off!
Dr Tim Taulke-Johnson
Rural Generalist
It's nice to work for an organisation that values patient care the same way i do.
Dr Karen O'brien
Rural Generalist
In my opinion, the main benefit of being a rural generalist is really interesting medicine. You go on a health journey with your patients. You get to know them – their story, background and medical history – making general practice more effective and rewarding. This connection is really lovely and not something easily achieved in metropolitan practice.
Dr Karen O'brien
Rural Generalist
I am a very positive ambassador for your services whenever I am 'out and about' in rural and regional Australia.
Keep up the great work. I am privileged to be associated with your brand.

Dr Richard Bills
Rural Generalist