Ochre Recruitment has been partnering with healthcare employers across Australia and New Zealand for twenty years.
As a part of the Ochre Health Group, we understand your needs as a medical provider.
We come from your side of the table, and understand the complexities of running a practice and a department. Our experienced team will assist you in finding not only the highest quality doctor for your vacancy, but also the best match to fit your team.
General Practice & Rural Generalism
Because we specialise in general practice and rural generalism, we have GPs with a wider range of specialties than any other agency. With close to 10,000 General Practitioners in our database, we are confident in our ability to provide you with the right doctor every time. We recruit GPs for locum and VMO hospital positions across Australia and are also adept at finding you a more long-term permanent GP for practice in New Zealand.
While we work with doctors, practices and hospitals in most urban, rural and remote regions, we are well respected and renowned for our commitment to helping solve the regional shortage of doctors.
Locum Roster Management
We exclusively manage Emergency Medicine locum rosters for some public hospitals and deliver workforce solutions to healthcare providers in both Australia and New Zealand.
We work with ED doctors from PGY2 to FACEM.
Get in touch with us today to find your ideal GP, VMO or Emergency Medicine Doctor and to register your vacancy.
Workforce Solutions
Holding exclusive service arrangements with over 10 hospitals, including GP FastTrack clinics, across four NSW Local Health Districts, our medical workforce resources provider, Medical Directions, has a proven track record in developing and operating innovative medical workforce service models with an emphasis on safety, effectiveness, and sustainability.
Being a niche provider of medical workforce to rural and regional services, the team is well versed in the challenges this presents and works with our partners in putting the best-equipped doctors on the ground as part of the clinical team.
Remove the hassle and stress
Working with Ochre Recruitment and Medical Directions removes the hassle and stress. We take care of everything—from advertising your vacancy and screening candidates, to registration and getting the doctor on the ground, ready to work—so you can get on with the business of running your medical service and doing what you do best.
We have a large network of established locums and a great deal of experience of recruiting both locally and internationally for permanent positions. We may already have a doctor available who is a perfect fit for what you're looking for.
Talk to us about your staff shortages today and we will have a solution for you tomorrow.
We have recently partnered with Aims Global New Zealand to assist with complex immigration cases. With over 30 years of collective experience, the Aims Global Team offer a range of services to New Zealand employers seeking guidance and support through the immigration process.
Please feel free to contact them directly should you wish to engage their services.
Why our eight-step recruitment process works
1. Screening
Our comprehensive assessment of medical skills, experiences, English language proficiency, references and candidate documentations means that only the best candidates proceed to the next phase.
2. Job matching
Only after a candidate's skills, attributes and career goals are determined are they are introduced to potential employers. Job matching is finalised once both parties have formally agreed to the new position.
3. Job Tracking
We manage all administrative processes, ensuring paperwork is completed on time. We complete regular internal audits to ensure high levels of compliance and quality.
4. Registration
We facilitate the registration of candidates through the various AMC Pathways, including Area of Need, Competent Authority Pathway, Partially Comparable Pathway, General Registration and Specialist Pathway Program.
5. Immigration
We provide visa and immigration assistance and guidance to the candidate, helping to prepare immigration documentation once they have met registration eligibility.
6. Medicare
We can assist doctors in completing the necessary documentation for a Provider Number, 19AA application, 19AB application, or ROMPs as required.
7. Credentialing
If a doctor is required to be credentialed to work in a hospital or health facility, we will liaise with the appropriate health service or district to ensure the correct paperwork is completed and to confirm eligibility.
8. Placement
A welcome pack and information sheet is provided to the doctor to assist in their orientation to their new workplace. Follow-up checks are made with both the employee and doctor to obtain feedback.
Marketing: How we promote your vacancies
Ochre Recruitment is passionate about bringing job vacancies to the doctors who are the most receptive and relevant to you. We deploy our resources to create specific, targeted campaigns across traditional and online media based on your goals and requirements.
We also take advantage of our considerable locum network and tenure in the healthcare sector to promote your vacancy to the most dedicated and skilled doctors—medical professionals who are often the backbone of rural communities, hospital EDs and busy metropolitan medical centres.
We listen to your needs and tirelessly promote your vacancy through organic and paid channels, always with a premium on targeting and relevance.
Channels
Targeted Campaigns

LinkedIn Ads - Demographic targeting / remarketing
Facebook Ads - Demographic targeting / remarketing
Google Search Ads - Keyword bidding / remarketing
Google Display Ads - Ads displayed on AU/NZ medical blog sites and medical website job pages partnered with the Google Display Network.

Print/Online News Media

The Australian Doctor
The Weekend Australian
NZ Doctor
Medical Journal of Australia

College Print/Online News

Royal Australasian College of General Practitioners (RACGP)
Royal New Zealand College of General Practitioners (RNZCGP)
Australian College of Rural and Remote Medicine (ACRRM)
Australasian College of Emergency Medicine (ACEM)

Electronic Direct Mail (EDM)

Email Campaigns to our +32,000 database of doctors.
Meet your Corporate Team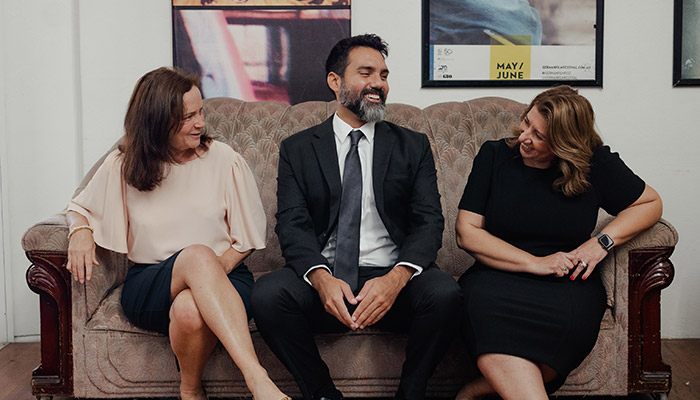 Mel McCarthy, Costa Intzirlis & Helen Spanos
Led by General Manager Costa Intzirlis, your corporate team are perfectly placed to tailor a workforce solution to suit your specific needs.
Collectively the team bring over 45 years experience in medical recruitment to your practice or hospital department. Helen Spanos, Operations Manager is adept at overseeing all operational activities and manages activities associated with quality, risk, compliance issues and in-house quality procedures, standards and specifications.
Your Marketing Manager Mel McCarthy, with 20 years recruitment marketing experience in the healthcare sector, will provide a comprehensive marketing strategy based on the type of doctor you wish to attract.
You always come through for us! Most importantly, you ensure the doctors you send us have Indigenous Health backgrounds and take a holistic approach to their patient care. That means they are able to handle patients with empathy and understand issues around their social and emotional well-being. Thank you!
Cherbourg Regional Aboriginal & Islander Community Controlled Health Services (CRAICCHS)
The team from Ochre Recruitment are very easy to work with, very personable and get back to you very quickly. If you let them know what you need, they will find someone that fits the bill.
Lucy Barker
Business Development / Locum Recruitment, Independent Practitioner Network
We approached Ochre Recruitment to find a locum at very short notice. The team acted swiftly to source suitable locum's and took the time to understand our practice, so as to find the best candidates to put forward.

Jason Watson
Practice Manager East Coast Health