Lightning Ridge
If you enjoy practising medicine at the top of your license in a truly unique location, then this is an opportunity worth exploring. Secure a one-off long-term block or repeat FIFO arrangements in this compelling town.
The opportunity
Regardless of the longevity and number of blocks you choose in this historic mining town, you will quickly become an integral part of the clinical team providing essential healthcare services. Working with two other GPs and an excellent multi-disciplinary team you will be very well supported by the friendly and collegiate team. With all practice sessions; emergency cover; ward rounds and on-call (1:3) shared across the service, you can rest assured that you will receive adequate rest periods.
You will experience a diverse scope of practice within this rural NSW town. The small multi-purpose service has 4 emergency medicine and 4 acute beds, 1 respite bed, and a 19-bed residential aged care service. The General Practice operates Monday to Friday and has mobile x-ray and visiting allied health specialists come to town.
Telehealth support exists within the service for CAT 3-5 presentations occurring out of hours.
Essential Criteria
FACRRM or FRACGP;
Current emergency certification (ALS2 or equivalent)

and recent Emergency experience;

Able to commit to a minimum of two-week blocks (longer blocks are preferred);
A genuine interest in rural health.
Location
Lightning Ridge is a thriving opal mining town like no other. Meander down the main drag and you'll find the street is sealed, curbed, gutted, and lined with regular shops. Attracting over 80,000 visitors a year, "The Ridge" has a number of good quality accommodation options and restaurants.
Venture out and about and you'll come across the wildly eccentric and sometimes bizarre. There's the house-made from bottles and the rough cement "castle" of the Astronomer's Monument; surrounded by a moonscape of mullock heaps under which literally hundreds of obsessed miners search and dig for the black opals which have made the town famous.
"The Ridge" is located 729 km northwest of Sydney via Mudgee and Dubbo and is 64 km south of the Queensland border. With a population of 2243 (22% Aboriginal) and an estimated additional 7500 people living off the grid (85% of which are Aboriginal), you'll be exposed to a variety of presentations and have the opportunity to work with the Indigenous population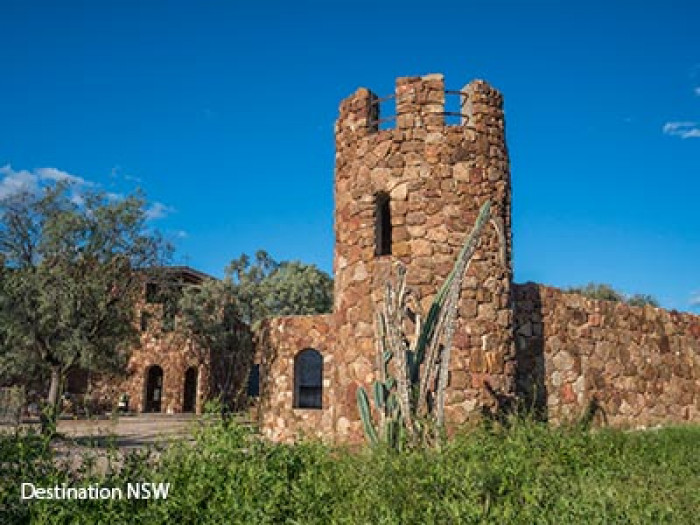 Ochre founder and board member Dr. Hamish Meldrum says the Ochre contract is an opportunity for rural generalist doctors to operate at 'the top of their license' and lead community health, as well as supporting doctors in training.
"I have worked as a GP VMO in Lightning Ridge and the experience has been very rewarding, both professionally and personally. My family and I also loved being part of the local communities and we greatly enjoyed the rural lifestyle."